IK Multimedia iLoud Micro Monitors (White)
High-end sound without 
the high-end price
Linear frequency response. Zero coloration. Transparency. Headroom. To hear the truth, you need reference speakers that offer up. And if you work in a home or small studio you have even greater challenges, from the lack of space on your desk to the "less than ideal" position of your audio workstation, typically placed against a wall.
Now, with iLoud Micro Monitor, you can hear the truth in your music anytime and everywhere. The smallest active studio reference monitoring system in the world, iLoud Micro Monitor provides you with ultra-accurate true linear frequency response with no coloration, and does so in every listening environment, especially in home and project studios. Sound too good to be true? Read on…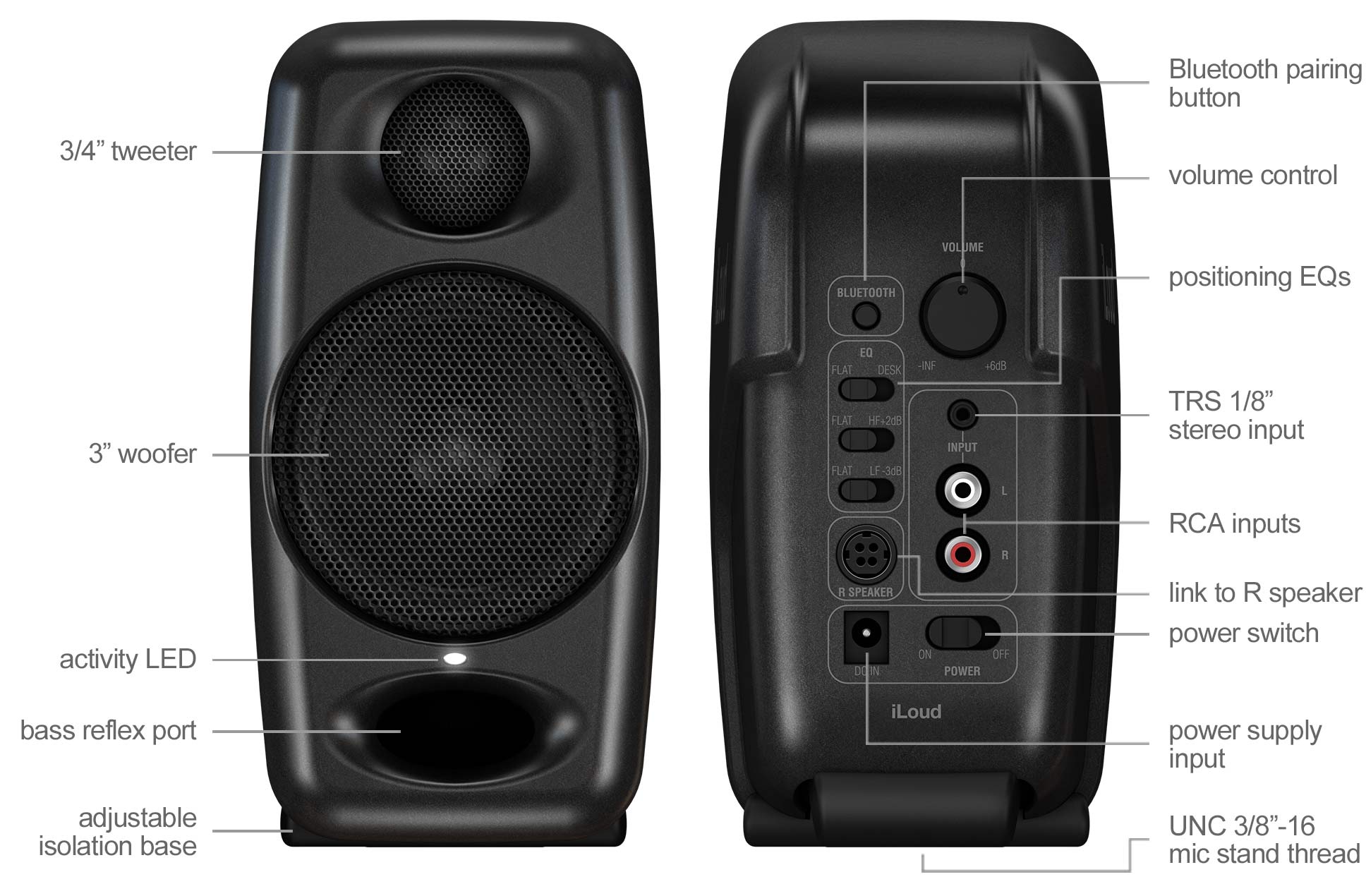 iLoud Micro Monitor is two extremely portable, high-performance bi-amped speakers that delivers a combined 50W RMS of power for solid bass, plenty of headroom and a stunningly defined stereo image. Whether you're recording, editing, mixing or mastering audio, editing video, sound designing or gaming, iLoud Micro Monitor ensures your production will translate well to the huge variety of consumer devices — headphones, home stereo systems, gaming consoles, car audio systems, TVs, and other listening systems.
With iLoud Micro Monitor, you will hear the truth in your music no matter whether you're mixing in your bedroom, mastering in a small studio or just listening to your favorite tunes at home. And best of all, it offers high-end features that can be found only in monitors in big budget studios, but without the high-end price tag.
High power, smallest footprint
When the original iLoud speaker was released, it set a new standard for portable power and sonic accuracy in an ultra-small, portable form factor. iLoud Micro Monitor is a natural evolution of that design concept, and just like popular predecessor, offer a completely new and unmatched sonic experience. iLoud Micro Monitors are specifically designed for small makeshift working spaces — bedroom studios, small project studios, on the tour bus or in a hotel room, and they are perfect as an additional reference monitor system for super nearfield listening.
Each tweeter and woofer is powered by ultra-efficient class D power amplifiers that push a total of 50W RMS with amazing low-end response down to 55Hz (-3dB) — the best bass response in its category. Each monitor sports a 3/4" silk dome tweeter, a 3" high-rigidity custom composite material woofer and a large-flaring front-firing bass reflex port. Thanks to these features, it's able to deliver smooth and extended high frequencies, an exceptionally open, focused midrange and a solid, controlled low end. Simply put, iLoud Micro Monitor's sound is so good that it's nearly inconceivable for a speaker system of this size and at this price point.
Sonically transparent
iLoud Micro Monitor sounds amazing and real. But why? Well, a part of that is due to its internal 56-bit digital signal processor (DSP). This DSP is responsible for things like taking care of the frequency and phase response of the monitors as well as also controlling the dynamic range so that the drivers are always under control and operating efficiently. It also acts as a digital crossover that allows for invisibly smooth transitions between the drivers themselves.
Stock:

In Stock

Brand: IK Multimedia
Model:

ILOUD-MICRO-MONITORS-SE

Weight:

7.00lb

Dimensions:

13.00in x 10.00in x 8.00in

SKU:

ILOUD-MICRO-MONITORS-SE

UPC:

802581374103
IK Multimedia